You should have found the movie database in a zip-compressed format.
The movie database is delivered in .txt (database), .xls (Excel or the free Base software from OpenOffice.org) or FileMaker (database) format.
- The .TXT format is an easily importable one, while precising 'Tabulation" in the option menu.
This format can easily be imported in a newly created sheet in any basic Datasheet program (Excel for instance) or in a new file created with a Database program (FileMaker, Access, TapForms for Mac, or the free Base software from OpenOffice.org, etc.).
- The .xls format opens directly with Excel or Base.
- If you already have the FileMaker software, you can download the demo version of the CINEFAN movie database directly in the FileMaker (V.12) format.
- Those who do not have this FileMaker software can download a trial version of the latest FileMaker for Mac or PC (Mac OSX , and Windows 2000 & XP) on the FileMaker site.

- When you have the software installed, "open" my FileMaker Template (V.12) (expanded of course with the appropriate utility).

- then "Import" my CINEFAN.TXT file (also expanded), specifying Tab format, or the .xlsx file

- or download the demo version of CINEFAN directly in the FileMaker (V.12) format.
Here you are... enjoy, and adapt it to your needs and tastes.
James Stewart in "Mr. Smith goes to Washington"
For those who can't use my FileMaker (V.12) template, here is a list of fields to create :
Original Title,
French Title,
Director,
Year,
Format,
Country,
Colour,

Duration,

Seen * times
Genre

Producer,

Actors,
Actresses,
Notes,
Scenario,
Based on,
Cinematographer,
Musical score,

DVD
Here is the CINEFAN Film Database on an iPhone, iPad or iPod Touch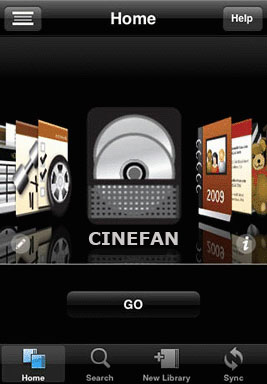 Here is a vue of the CINEFAN Classic film Database with an iPad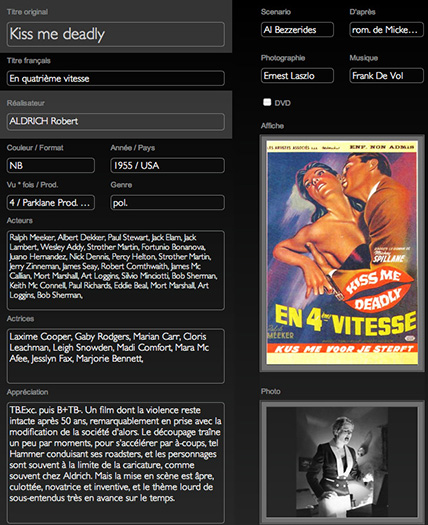 How to install the CINEFAN Classic Movies Database on a
S
martphone
On a PDA, you generally get a database program which handles the "Contacts".
You can import the TXT version of CINEFAN in it.
Orson Welles and Charlton Heston in "Touch of Evil"
CINEFAN is an ideal and unique reference guide and tool for the amateur moviefan, the self-respecting cinema enthousiast, the student or the researcher, and also the DVD collector who wants to build up a DVD library from scratch.
You can of course add any new movie you want and your personal comments at will, and also search and sort it as you please.