What is CINEFAN ?

It's a movie database for the amateur, the student, the researcher, and the DVD collector.
It presents more than 12.000 films from Silent Movies till today.
It is an A to Z of classic and contemporary movies from all over the world, although the majority comes from American and European Cinema.
You can of course add your own films and comments, and bend it to your needs.
You can sort and search the Database in any way you like : by Directors, Actors/actresses, Year, Production Company, Cinematographer, etc.

You can download it and use it offline on your PC, Mac, Smartphone, Tablet, iPhone, iPod, iPad or PDA.
The Cinefan Database is a shareware.
Its rights are reserved : Copyright © 2001 Pierre VERNAY

Here is where you can order/buy the Complete Movie Database


A look at the Cinefan Movie Database in File view with FileMaker


Another look at the Cinefan Movie Database in List view with Excel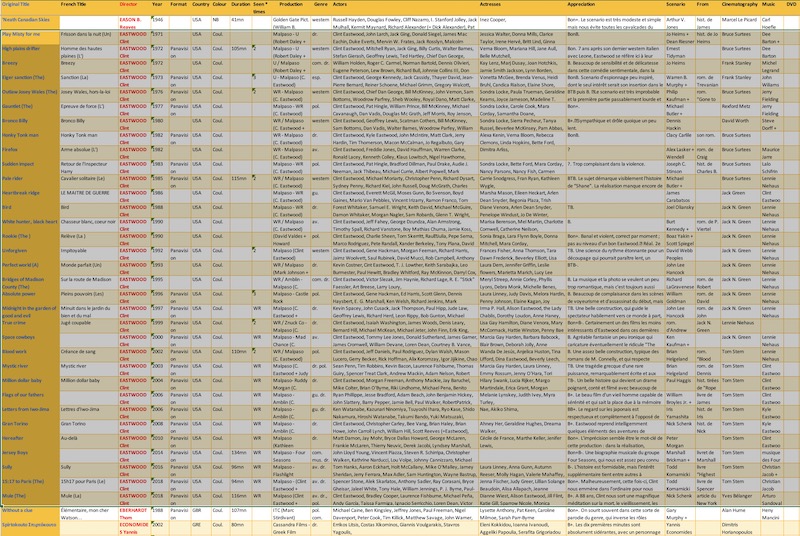 Cinefan : an international classic film database and DVD movie catalog as well.
CINEFAN is an ideal and unique reference guide and tool for the amateur, the self-respecting cinema enthusiast, the student, the scholar or the researcher, and also the DVD collector who wants to build up a DVD library from scratch.
You can of course add any new movie you see and your personal comments at will.
The version distributed here is not a trial version, but a subset of the complete international movie database.
In fact, it is the first third of the film database, presenting Directors from A (ABBOTT, George) to B (BUZZEL, Edward) only. Those interested in the complete version, from A to Z, should read the chapter "Registration".
It can be used on any type of computer (Mac and PC, Smartphone, Tablet, iPhone, iPad, iPod touch, PDA, Psion, etc.), as long as you have a Datasheet software (Excel for instance) or a Database software (Access, FileMaker, etc).
Marnie's long legs, Connery's slippers
in Hitchcock's "Marnie"
The ideal and unique reference guide and tool for the amateur movie fan and DVD collector

History and statistics of the Classic films Database

I began my work in 1997, and released :
Version 1 of CINEPHIL in October 1998,

Version 2, in May 1999 with an equivalent English name :CINEFAN. With many corrections and additions within various fields.

Version 3, in May 2000. Huge enrichment of the French movie files.

Version 4, in March 2002. Huge general enrichment of the files.

Version 4.1, in March 2003. A minor update, made mainly to "commemorate" the creation of LEWESTERN database and site. Update of the CINEFAN site.

Version 5 , in February 2006. Large enrichment for some films which lacked basic informations. Creation of the FILMNOIR database and site.

Version 5.1, in January 2008. Yet another large enrichment for all films.

Version 6, in 2010. Update of this site.

Version 7, in January 2018. Many improvements, corrections, verifications.

Version 8, in January 2021. Over 11.600 films ! And an improved layout for each film file, thanks to the suggestions of two buyers/users : the Year, Format, Country, Colour and Duration fields are now individualized, and the ISO-3 code has been adopted for each country heading.
As it is, this movie database consists of some :
- 8100 US films,
- 2600 French films,
- 1000 British films,
- 900 Italian films,
- 300 German films
- 90 Japanese films,
- 80 Greek films,
- etc.,
all productions starting from the silent movies era up to now... and after. Among them, more than 1800 western movies !
A few opinions from enthousiastic users of the Cinefan movie database (some are translated from French):
- "Hi Mr. Vernay, "Hats off"! I really love your database."
- "Bravo for this colossal work. This is exactly what I have been looking for..."
- "I take my hat off to you for this huge work"
- "Congratulations for the job you've done. Such a database is a dream come true for an amateur like me"
- "I thought your database was quite adapted to be used as a first rate "dvdtheque"
- "Bravo" for the colossal work you've done"
- "Congratulations for your work"
- "Big thanks for your admirable work"
- "I'm amazed by the number of films you know!"
- "Your database is quite complete and clearly indicates a huge work ! Congratulations for this incredible work".
- "Thank you for the follow-up. Great customer service".
- "I am so impressed as I know the qunatity of work this database represents !"
- "I compliment you for your work, which seems colossal ! And also thank you for making it available to us"
- "Thank you very much for delivering such a magnificent database. It is very very interesting"
This classic movie database is also distributed in French under the name CINEPHIL, since "Cinéphile" means "Movie fan". In its present and future states, my database does not attempt to be a complete or universal reference (none exists !), but I have tried to include every film which seemed likely or worthy to be remembered by the keen filmgoer or student.

The film database does contain a few errors (typing, spelling or incorrect names), and it is far from being complete for some films. Now it's up to you to use it in whichever way you choose.
There remains the problem of my personal findings (for those who are interested in translating them from the French original, of course...), which will undeniably annoy some readers, and be paradoxical to others...
You must understand that, having made it for my own personal use, it is more than anything a mirror of my own analyses, evolving over the years, and it satisfies my criteria only. It is up to you to eliminate whatever bothers you.
One must also understand that it is the result of a "cinéphilie" of some 40 years, and that my "critical filter" has had largely the time (and the need) to narrow, by viewing lots of good and bad movies (a necessary discomfort), and by watching again many of the good ones... as well as the bad.
All of this is to explain the sometimes surprising differences between my first time appreciation and the next, and to recognize that my appreciation "Bon" ("Good") often encountered in the database, hasn't much in common with my present vision : most of the time it would be replaced by a definite "Very poor" for "Bon" or by "Appalling" for "Bon-"... and if I haven't made this adjustment, it is due to incertitude, laziness or leniency...
Ingrid Bergman + George Sanders
in Roberto Rossellini's "Viaggio in Italia"